Every intra-oral scanner struggles to some degree with imaging certain materials and has a focal length that makes it difficult to image deep margins.  The difficult materials are the reflective ones; like eMax, metal abutments, and zirconia. Some machines even require you to mask or opaque these materials before imaging them.
Conversely, most scanners do well with imaging soft tissue.  The depth of the vestibule and the focal length of the camera determine how well you can pick up these areas.  The video below shows an initial test and more particularly a technique where you pick up soft tissue and natural dentition as your landmarks and start developing full arch scans around these "anchors"
[videopress NzpWW0Qt] The video above produced this detailed image performed with the Medit i500 camera. Total time taken to image this arch was about 5 minutes, two to three times longer than normal because every single tooth in the arch was restored with eMax. Only the anterior lingual are natural teeth. It is just a preview of more things to come from CAD-Ray.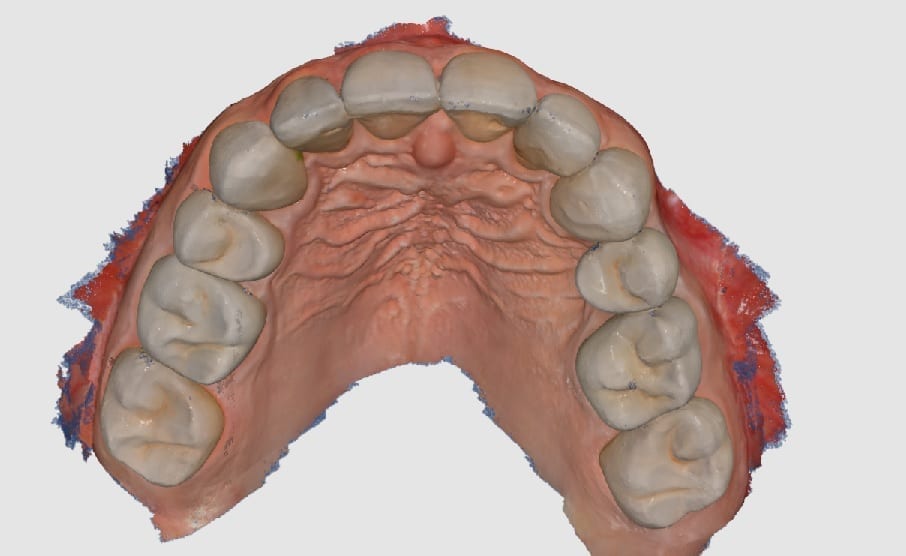 The laptop used had the following specs:
Dell Alienware AW 15R4
8th Generation i7 – 8750H
16 GB's of Ram
8BG SSD
Windows 10
~ $1700